The changing world of investment and business: what is Generation Y aiming for?
It is said that as much as $ 12 trillion will be passed on to the new – young – generation by inheritance this decade. This year alone, that number is expected to exceed 760 billion US dollars. And this is only the American market. Be that as it may, it is by far the largest transfer of property in history. Decades run past each other, and people's beliefs are changing with them. How does the new generation of heirs affect business, investment and the financial market as a whole?
What does the millennium generation want?
The so-called Generation Y (born 1981-2000, also known as millennials) differs quite drastically from their parents in their approach to business and investment. The young generation looking for exclusivity sees investing or running a business as a way to express their beliefs – they want their choices to be not only profitable but also right. Giving a secondary role to returns, this generation is slowly trying to focus on more long-lasting things – change. In the financial world, this is called impact investing .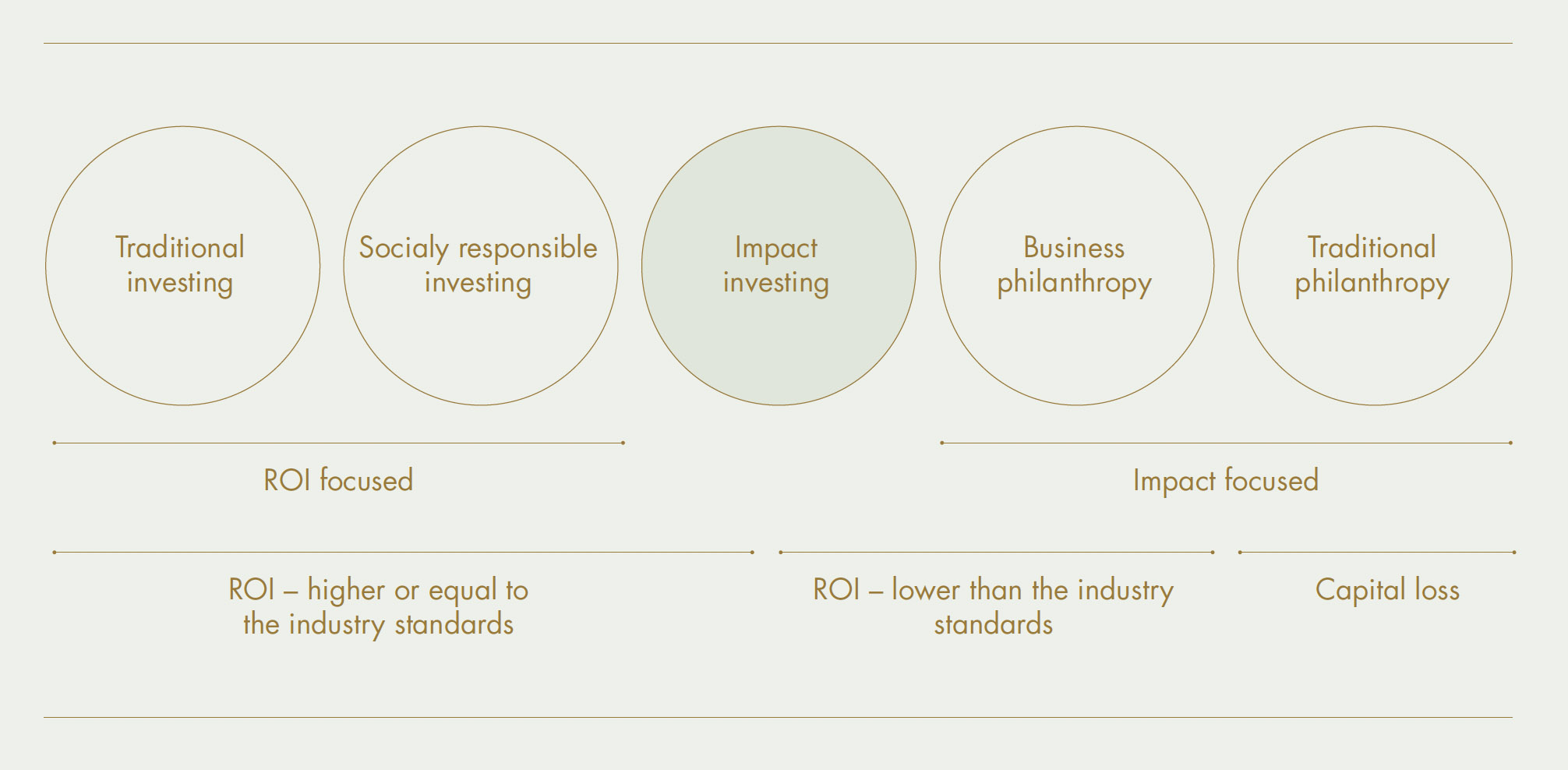 True, there is still disagreement on how to describe this investment direction exactly. Impact investing is not simply about avoiding making money from businesses that are considered unethical, such as in the alcohol or tobacco industry. In this case, we are talking about an investment that has a much stronger impact on the social, political or economic environment, such as tackling air pollution, the lack of clean drinking water in third countries or climate change.
Why is the millennial generation committed to drastic change?
1. Access to information
The most shaping phenomenon this time around was and still is the internet. It is a window to a world that has never been so easily accessible. Better dissemination of information has gradually allowed the new generation not only to observe world events with the accuracy of a second, but, most importantly, to form different opinions about each of them. It is not just what is happening in your hometown, state or region that has suddenly become relevant. We finally really felt the butterfly flutter on the other side of the world. It is therefore not surprising that Generation Y is keen to invest in and promote a debate not only on green business but also, for example, on gender and racial equality.
And indeed, the millennium generation was the first to bring healthy food, the reduction of plastic consumption, the fight for animal welfare into our daily lives – all this is a great example of the power of information dissemination. Perception and the ability to assess the importance of the most pressing issues make us think about where we allocate our money and how we can contribute to positive change.
2. Distrust of the outdated order
What separates the millennials from their predecessors? Economic crisis, rise of democracy, climate change, intensification of terrorist attacks and rapid technological change … All of these events over the past few decades have contributed to the formation of maturing human values.
For example, it can be said that a large part of the representatives of the millennium generation were freshly "baked" graduates or recent professionals during the 2008 financial crisis. Imagine – one day the world is at your feet, the next – suddenly everything collapses like a bubble overfilled with air. Naturally, a young person is surrounded by fear and distrust of traditional business, and especially traditional banks – how to know that this will not happen again in the near future?
Changes gradually replacing themselves and unreliable traditional standards are forcing young people to strive for transparency. A high level of risk tolerance and an open approach allow the status quo to be shaken and to focus their attention and money on young businesses that promise real change, not just round returns.
3. Aiming to do everything faster, smarter and .. more economically
The Y generation, sharply shaken by economy once made me admit in part that money really can't buy happiness. Although it is estimated that the millennials will eventually become the richest generation ever, they are already spending this money quite differently from their parents. The educated generation of the digital world is actively pursuing smart ways to meet everyday challenges.
Generation Y has brought companies such as "WeWork", "Airbnb" and "Uber" to the skies, and they popularized the sharing culture. Why drive your car and bother about parking if you can call an innovative taxi at the touch of a button and even grab a passenger traveling in the same direction? Why rent a large, expensive office if you can share your workspace with potential like-minded people? Cheaper, faster, more efficient – and even greener.
A culture of sharing existed before, but we never shared services or things with so many people at once. The growing interest also encourages a lot of investor attention. The phenomenon that promotes socially responsible consumption and has a positive impact on the environment has brought Lithuania and the first – long-awaited – unicorn.
Short-term fashion or a new classic?
While most professionals may argue that a young person's lifestyle and beliefs are gradually changing with age, financial institutions and all other businesses should still consider and accept impact investing not as an alternative but as a basis for business and for all of us as a way of life. Although there are currently four generations of executives on the market, it is said that millennials will account for more than 50 percent of all the global workforce this year, so the further away, the more the conditions will be dictated by them.
What used to be discussed only in small gatherings has today become a mandatory topic in the largest banks, corporations and the most innovative start-ups. People are increasingly understanding and feeling the changes caused by various social or ecological problems. Investors, entrepreneurs and philanthropists are willing to join the initiative and gradually change their approach to their activities, so the impact investment market value in 2020 should exceed as much as 1 trillion US dollars. Although Generation Y did not invent this niche, they have arguably become a great platform for it to grow.
Related articles:
– Family constitution (Lithuanian article)